A resolved phylogeny for the Eumycota
For a larger image of this eumycota phylogeny please see this
descriptive page
. Or see this related page for
popular media coverage
of this phylogeny.
Gargas A, PT DePriest, M Grube and A Tehler. 1995. Multiple origins of lichen symbioses in fungi suggested by SSU rDNA phylogeny.
Science (cover article) 268: 1492-1495.

download PDF (1.0 Mb)
Origins of lichen associations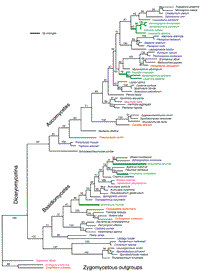 Lichen associations arose several times within the fungi, yet until recently the closest relatives to lichens among non-lichen fungi the were not known. Molecular characters allow the comparison of fungi with diverse lifestyles and morphologies, and research in collaboration with Paula T. DePriest, has led to the production of parsimony analyses of SSU rDNA sequences resulting in phylogenetic hypotheses of fungal relationships and predictions of the origins of the lichen habit. Onto a well-resolved phylogeny for the Eumycota we mapped the character of lichenization (shown in green on this phylogram). There are at least five separate origins of this symbiosis within the fungi (three lichen origins within the Basidiomycetes, and two lichen origins within the Ascomycetes). The publication of this phylogenetic tree with lichens interspersed among the real fungi supported something of a paradigm shift in the general view of lichen-forming fungi. Rather than viewing lichens as an unusual and separate group one could see clearly that they are just representatives of another fungal lifestyle.
Evolution of fruiting bodies within the Ascomycetes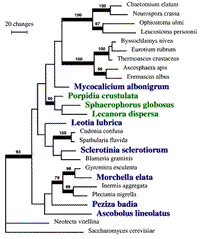 There has long been debate over the morphology of the ancestral filamentous ascomycete. Various mycologists suggested that the first fruiting bodies were cups (as in the discomycetes), flask-shaped perithecia (as in Neurospora or other Sordariales) or closed spherical cleistothecia (as in Eupenicillium). As part of doctoral work (with John W. Taylor) I examined phylogenetic relationships of representative apothecial ascomycetes, commonly known as the cup fungi, based on their nuclear SSU (18S) rDNA nucleotide sequences. This research led to the first DNA sequences from lichen-forming fungi, and my phylogenetic analyses were the first to resolve the major questions of fruiting-body evolution within the ascomycetes based on analyses of molecular characters. I showed that the cup-forming discomycetes were basal, and paraphyletic within the filamentous ascomycetes, as proposed by J. A. Nannfeldt (1932). The first fruiting body was a simple cup, and this either closed partially (retaining forcible spore ejection from the asci) as in the perithecial fungi, or closed completely (with the concurrent loss of forcible spore ejection) as in the cleistothecial fungi.
Gargas A and JW Taylor. 1995. Phylogeny of discomycetes and early radiation of the apothecial ascomycetes inferred from SSU rDNA sequence data.
Experimental Mycology 19: 7-15.

download PDF (1.8 Mb)
Powdery Mildews: cleistothecial or perithecial?
Powdery mildews form closed fruiting bodies, similar to fungi in the
Penicillium
group with cleistothecia; yet they eject their spores forcefully, as do fungi with flask-shaped perithecia such as
Neurospora sp
. With DNA analysis it was possible to answer this question, and with lead researcher Greg Saenz we found a surprising result: the powdery mildews are more closely related to the fungi with apothecial fruiting bodies, or open cups.
Neither -- they belong with the apothecial cup fungi.
Their closed fruiting bodies are now known as
chasmothecia
.
Saenz GS, A Gargas and JW Taylor. 1994. 18S rRNA gene sequences and supraordinal classification of the Erysiphales.
Mycologia 86: 212-216.

download first page PDF (480 kb)
Related information
An introduction to
Ascomycetes
The
Lichens of North America
Tree of Life (Arizona)
glossary of phylogenetic terms